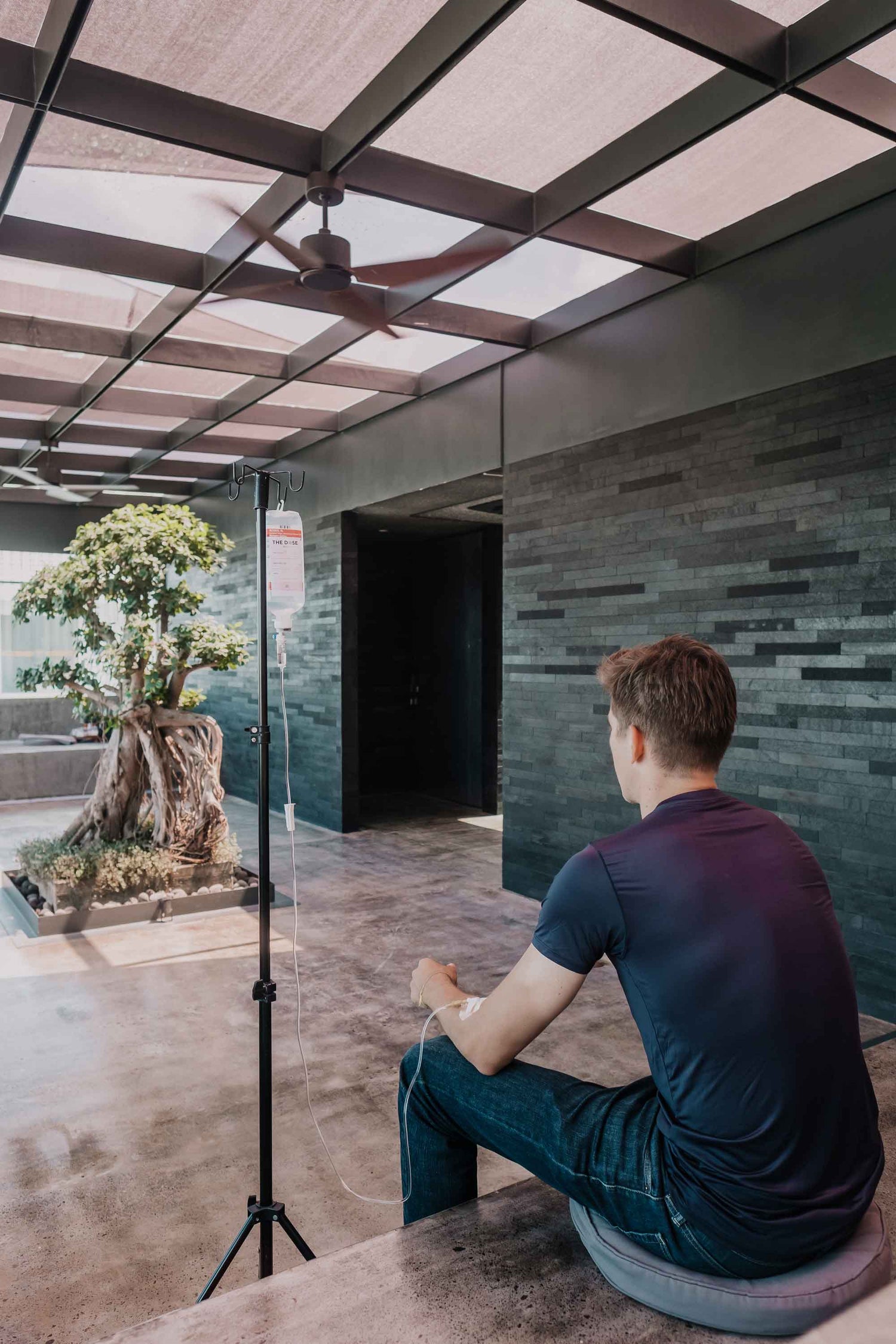 Feel better. Fast.
Whether you've had a few too many champagnes at a wedding or eaten some dodgy seafood, no one should waste a day of their holiday in bed. To feel like you need a boost, you don't need to be suffering from food poisoning, a hangover or Dengue Fever. You may be over-worked, jet-lagged or just generally sleep deprived and in need of an energy lift. THE DOSE Bali IV Therapies delivers vitamins through a hydrating base fluid (such as saline solution or electrolyte-rich Ringer's Lactate) which can give you the boost you need to get back to feeling like yourself.
IV Therapy
Who administers the IV?

THE DOSE Bali consists of a team of doctors and National Licensed Nurses who are completely over-qualified for the IV administration business. Many have international experience and have worked in large hospitals, all speak English. You can be sure you're in good hands.
How long does the IV treatment take?

Usually about 30-60 minutes, depending how much fluid is in your Dose, your vein size, and the general state of your health.
Does it hurt?

Getting an IV hurts less than most vaccinations. There is a slight pinch when the needle is inserted (we always try to use the inner arm veins since there are less nerves there), the cannula that is left inside is made from a sterile soft plastic, so you shouldn't feel much/anything once everything is in place.
How often can I get an IV treatment?

As a general rule we recommend customers limit to themselves to one every three days, however it depends on which treatments you are getting and what you are using it for.
Is there anyone who are not suitable for IVs?

People with heart disease or kidney disease should not get IVs administered without first getting permission from a doctor. Diabetics also require special consideration. The team from THE DOSE will check your vitals and have you fill out a health history form prior to your treatment to help assess whether any medical red flags are present.
What are your safety protocols?

Patient safety is our top priority. Before commencing any IVs, patients undergo a routine health check up (blood pressure temperature etc.) by National Licensed Nurses and fill in a health history form. This process ensures anyone who should not receive an IV (e.g. someone with heart disease) is screened out before treatment.
To dose at Terapung, we recommend that you book with us 24 hours in advance to secure your appointment for the next day.
Dose at Terapung
We are proud to be partnering with THE DOSE Bali, where you can be confident you will receive high quality, authentic ingredients and that your treatment will be administered according to international hospital standards. All syringes and other equipment are single use, sterile, and disposed of responsibly.